Reading at Great Oldbury
Parents often ask what they can do to support their child with their learning, and our first answer is always: read with them.
This page, and the associated pages, of the school website are dedicated to supporting parents and carers with reading with your child at home. You will find a range of resources and tips designed to help you develop your understanding of reading, as well as model to you how to have the most impact when reading with your child at home.
Why is reading so important?
Reading is the cornerstone of learning - being a fluent and confident reader unlocks the doors to so many other areas of learning for a child.
Evidence suggests that children who read for enjoyment every day not only perform better in reading tests than those who don't, but also develop a broader vocabulary, increased general knowledge and a better understanding of other cultures. In fact, the
re is evidence to suggest that reading for pleasure is more likely to determine whether a child does well at school than their social or economic background.
Learning to read is about listening and understanding as well as working out print. Through hearing stories, children are exposed to a rich and wide vocabulary. This helps them build their own vocabulary and improve their understanding when they listen, which is vital as they start to read. It's important for them to understand how stories work as well. Even if your child doesn't understand every word, they'll hear new sounds, words and phrases which they can then try out, copying what they have heard.
Find out more about the importance of reading here.
The Five Pillars of Reading
Learning to read is a process made up of five essential components, the 'pillars of reading'. The journey to becoming an confident and competent reader needs to encapsulate all five pillars.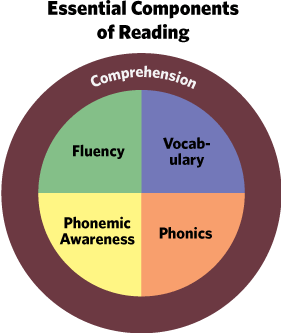 1. Phonemic Awareness
Being able to identify, manipulate and substitute small units of sound - the building blocks of speech and the foundation of learning to read. This is formally started at pre-school and built upon in Reception by Miss Goodman.
2. Phonics
Turning those sounds into speech and being able to decode the written word - linking sounds and matching them to letters to formulate words. Phonics is taught throughout Reception, Year 1 and in Year 2. In Year 1, all children sit a national Phonics Screening Check.
3. Fluency
The ability to read accurately, quickly and with expression - a bridge between word recognition and comprehension.
4. Vocabulary
Knowing what the word means - helping children to think more and understand. Better understanding of the meaning of words leads to greater comprehension.
5. Comprehension
Being able to be a critical thinker when reading - extracting meaning, evaluating information and processing ideas.
Find out more about the five pillars of reading here